In December of 2020, we donated the ticket packages for the Greater Mankato Area United Way's annual Fire & Ice Ball, a project you can learn more about [here]. We were honored to be able to donate the time and materials to support this event and are even more honored to share that we received recognition for this project at United Way's Top Executive Leadership & Business Awards Luncheon on June 8th!
United Way chose our team to receive the Artistry Award in recognition for our work on the Fire & Ice packaging. We sat down with the designer on this project, Whitney Schaefer, to learn more about the project and what this recognition means to her.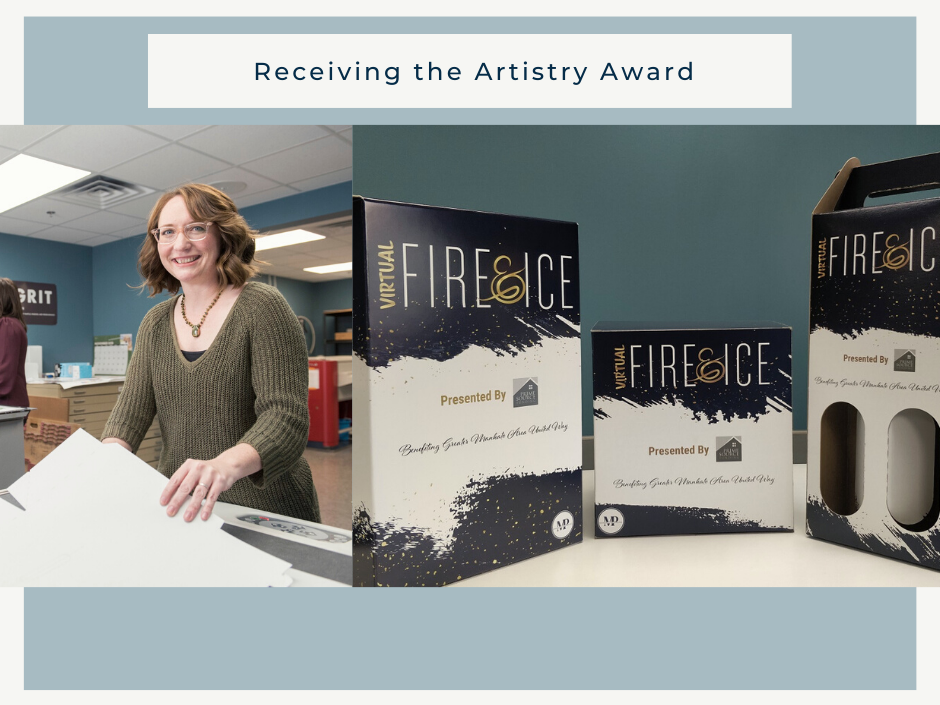 What was your role in the creation of the Fire & Ice event packaging?
I did the layout and design work for this collection of packaging.
What was your goal with the design of the packaging?
All three are large boxes, with the intended use of presentation pieces. I was conscious of filling up as much white space as possible to make them more presentable.  
What made this project unique from the others you work on at Mankato Packaging?
It is not our normal order to do any design work. We usually use the customer's artwork and only customize if needed for our press. It was great to have an opportunity to play around with original artwork on this project!
What were your thoughts/emotions when you discovered you were selected for the Artistry Award by United Way for this project?
I believe in United Way and have contributed to their cause for many years. An award from them feels like icing on the cake to a job I genuinely enjoy.
Tell us about the event on 6/8 where you received the award!
They spoke about inclusivity within our community. That really hits my heart as I have a twelve-year-old son with Down Syndrome myself. You never know where you will need support in your life until you need it. It was great to see, hear, and know that people are out there dedicating their lives to supporting the community, and that they truly care.
We want to thank Whitney and our other team members who worked on this project, and United Way for recognizing our efforts. We look forward to supporting you for future events!