One of our favorite things about working in a close-knit community like the Greater Mankato Area is the opportunity to collaborate with other local companies, like Mankato Brewery. This brewery and everyone that works for it are an absolute pleasure to do business with, and we are honored to call them one of our long-time clients.
In honor of the arrival of spring and some new brews hitting the shelves for the warmer seasons, we sat down with Jace Leiferman, Business & Logistics Manager at Mankato Brewery, to learn more about what they are working on for the upcoming season! Let's dive in.
Tell us about your new seasonal brews!
We are excited to announce releases coming up of Pineapple Wheat, Pomegranate Berlinerweiss, and a Raspberry Blonde. The Pineapple Wheat is a smooth easy drinker for the summer. The Pomegranate Berlinerweiss is named Omega Wolf and will be out our sample packs. Omega Wolf is a lot like a "light" sour. The Raspberry Blonde is another easy drinker brewed with a hint of hibiscus to make the raspberry really pop!
What are your customers' favorite beers to drink in the spring and summer?
Our number one year-round beer is Mad Butcher IPA. Rhuby Rhubarb Sour sees a large increase in sales during the summer.
What inspires your fun beer can and packaging designs?
A lot of our inspiration comes from either video games, comics, inside jokes, or pop-culture. Our entire crew enjoys video games, comics, goofy mischief, and beer.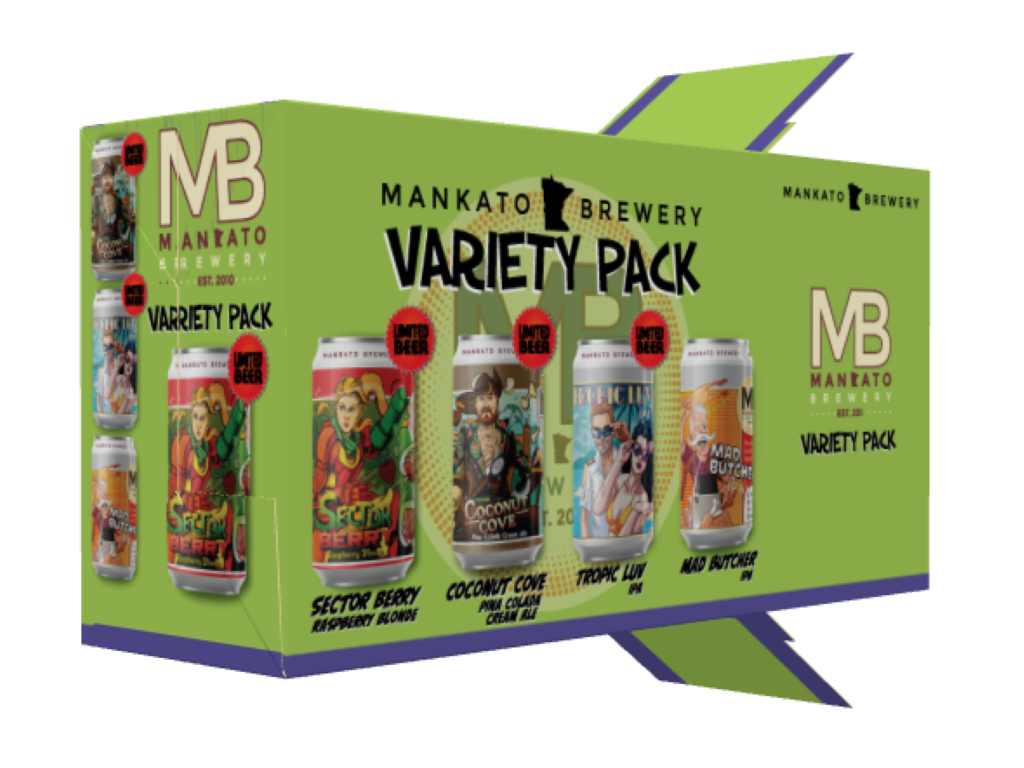 Tell us about your upcoming Spring/Summer events!
While there is much uncertainty about when large events will be able to happen again, we are working on creating a fun and inviting atmosphere at Mankato Brewery! We will be hosting food trucks every Saturday from May-September. Live music every Tuesday from 6-8pm – here are our upcoming performances:
Live Music from Tony Williams, Saturday, April 24 from 5-8pm
Live Music from Amy Manette Saturday, May 8 from 4-7pm
Up to date info can be found on our Facebook page.
How long have you been working with Mankato Packaging on your packaging?
We have been working with Mankato Packaging since early 2019 for all of our 12pk carton needs.
What would you say is the best thing about working with a local company on your packaging?
One of the nicest things about working with a local company on packaging needs is being able to do in-person press checks and artwork sign-off. Being able to drive 5 minutes to ensure that all the colors and artwork match our desire is very reassuring. It's also awesome knowing that we are supporting another company that is in our back yard, helping local stay local!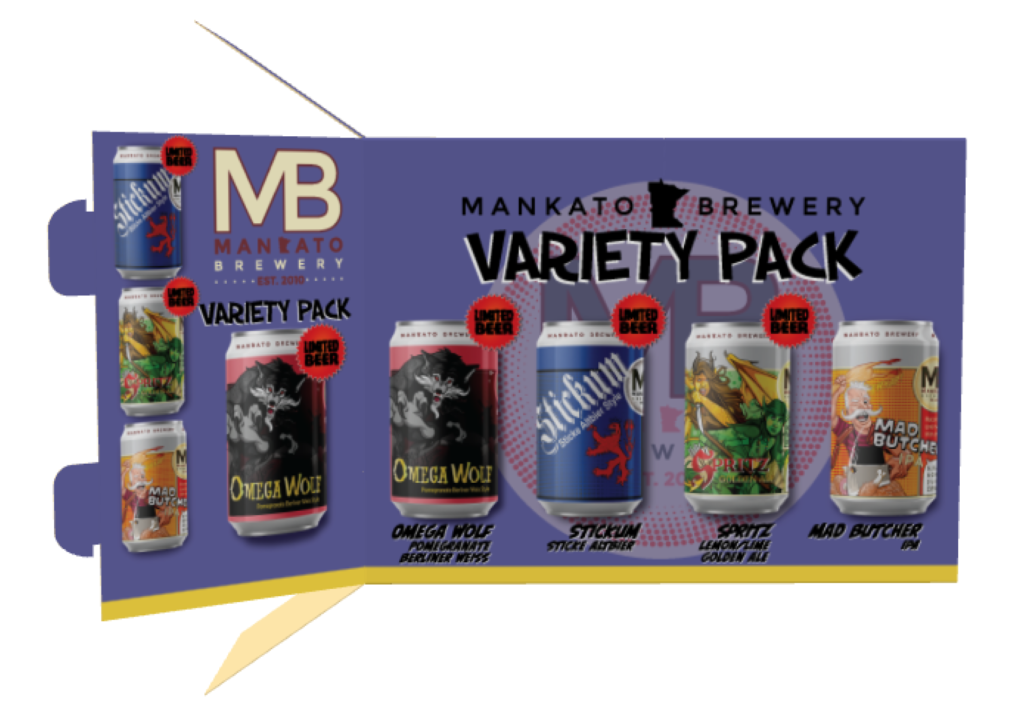 We cannot thank Jace and the entire Mankato Brewery team enough for your business and for taking the time to share your customer story with us. We cannot wait to try your new brews and to check out your events this spring and summer.
If your company is in need of some new packaging for your seasonal items, reach out today to request a quote!