The Mankato Packaging team has continued to focus on the commitment within sustainability. This dedication plays a part in every aspect of our business. As Earth Day approaches, this significant day serves as a mindful reminder of our planet's fragility and the importance of doing our part to take care of it. Often, it's the small things we do every day that add up to create impactful, positive changes for the world. When it comes to choosing the correct material for your product packaging, it's essential to invest in packaging that reflects your core values to your customers. Let's dive into how our paperboard offerings can help your company best represent your sustainability goals.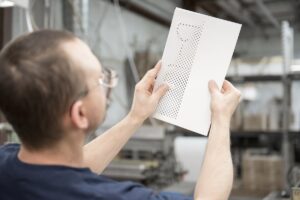 1. 100% Recyclable Paperboard.  Our 100% recycled paperboard is a high-quality product created from recovered paper collected for recycling and utilized in our packaging and other consumer/industrial applications.
2. Environmentally Friendly Inks. Our inks contain significant vegetable/soil oils to ensure that the paperboard these inks are placed on can continue to be 100% recyclable. Eco-friendly inks can cut expenses immensely and still result in superior-looking products. They will also help reduce your company's ecological impact in the long run by promoting a sustainable and beneficial economic strategy.
3. Protective Coatings. The aqueous coatings we utilize are water based. This varnish procedure ensures the finished product stands out while also protecting it against scratches, sticky fingers, scuffs, and other blemishes that may detract from its colorful appearance.
4. Zero-Waste Production Facility. We are partnering with an essential leader in the recycling industry to achieve our goal of becoming a zero-waste manufacturing facility. Zero waste protects the environment, benefits communities and supports a strong local economy.
In short, practicing sustainability as an organization helps protect the health of our natural environment, humans and our ecosystems, drive innovation, and create a healthier future for generations to come. Together, we can commit to doing our part for the future while helping protect the planet now. Let's start with your packaging.