Big things are happening here at Mankato Packaging in 2022. We are excited to be making significant changes that will make our process smoother internally and externally. One of our bigger undertakings has been the new gluer we installed early this year. Here's some insight on why we made this upgrade and the benefits it will have for both our internal team and our clients.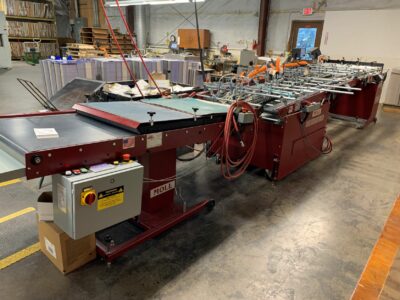 First and foremost, this new gluer gives us the ability to increase our order output while improving quality. It has glue detection capabilities which means it's constantly scanning for quality throughout each packaging run and culling out any package that isn't up to standard. This means our customers are receiving their orders in a timely matter with the certainty that each order is correct. This machine also performs well with small batch orders, making custom paperboard packaging accessible to small or big business owners alike.
Internally, the new gluer has created a re-energized atmosphere among our employees. We all take pride in what we do, and this is another piece of the puzzle as we continue to improve our facility and our product. This equipment allows us to bring more of the process in-house, which means more accountability and ownership for our team.  We also brought on a new employee who is trained to use this gluer, ensuring a seamless integration with current business practices.
In addition to the new gluer install, we removed a press from our plant that has been here, nearly 30 years. This process took less than 7 days start to finish and allowed us to recycle well over 100,000 pounds of steel, aluminum, and copper while creating additional space for organization and future projects.
We encourage current + potential customers to reach out and ask questions about how these changes will help us better assist your business with any paperboard packaging needs. From cartons and outer wraps to custom orders, we're passionate about helping your product stand out on the shelf so you can meet and exceed your business goals. Reach out to our sales team to learn more about the positive changes we're making and see if we're the right fit for your project.