Forming relationships with small businesses in our community is essential to our team.  We partner with business leaders across industries to provide them with customized product packaging. With International Beer Day falling on August 5th, we're celebrating by dedicating this month's focus to craft breweries. To "brew" a successful business, competing for customers' attention not only means you need a quality product but strong branding as well.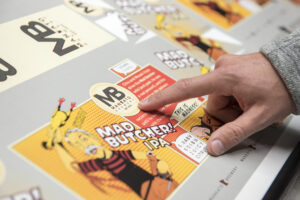 Like all businesses, keeping up on marketing efforts can be a key to success. Brand recognition serves as a link between consumers and the brewery. According to the Nielson Survey, "the craft beer industry is very much determined by the aspect of luxury: consumers will gladly pay a higher price for a variety of styles and tastes, the use of quality raw materials, and the use of the most advanced technologies." Craft brewers can lean into this opportunity to make their brand unique and purchase-worthy, through product offerings and quality marketing.
Not sure where to start? Providing a memorable experience for the consumer may not be as hard as one thinks. When businesses tie marketing efforts into the decision-making process, it's easier to create brand recognition and connection with the buyer throughout the entire purchasing process. In more concise terms, building a stronger brand can mean selling more beer. Your packaging should make a statement and tell your story.
As Governor Walz recently signed the 'Free the Growler' Bill into law, several changes were made to Minnesota's liquor laws, including raising the cap on growler sales, allowing more off-sale options for smaller brewers, and expanding license opportunities for specific cities and events. (mn.gov) In addition, small breweries now have access to sell four and six-packs of beer, serving as a huge asset for the success of local breweries.
From concept to can, we work with business owners to create thoughtful, impactful packaging with functionality and purpose. We work closely with your team to bring your vision to life. We are committed to providing our customers with customized, innovative solutions to help businesses thrive. Get in touch with our team or request a quote: https://mankatopackaging.com/get-quote/ for your next project.